Most expats in Vietnam know that at the moment, it's quite complicated and costly to do a visa extension in Vietnam and also the visa extension can be done ONCE only per each visa; and therefore in many cases, they must leave to Vietnam and come back with a new visa for an extended stay in the country. And many people, in this case, opt to do a visa run to Moc Bai border checkpoint (Cambodia) which is considered the place for the cheapest visa run from Vietnam, especially for those from Ho Chi Minh City.
► See more options for the Vietnam visa run.
So, what do you need to prepare before you head for the visa run? How to do the Moc Bai visa run? How long does it take? How much does it cost as well? This guide is for all those who want to do it, even by motorbike or shuttle bus.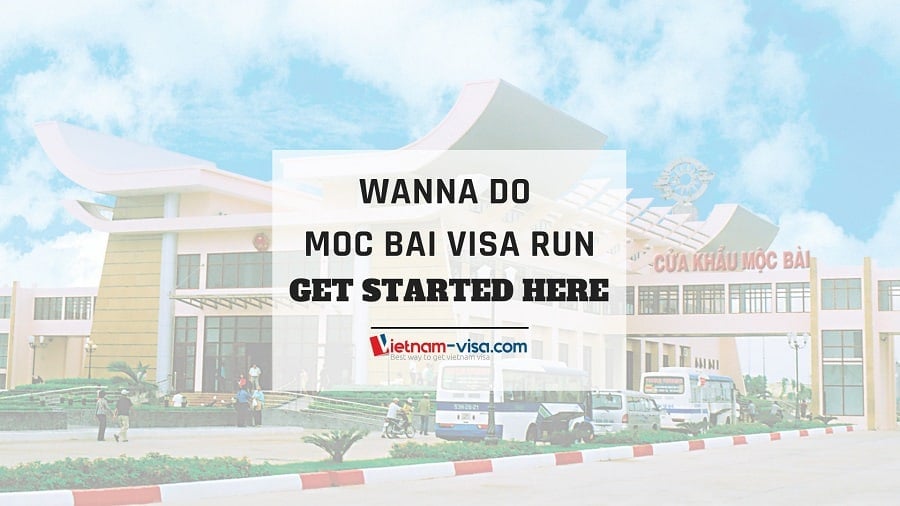 What to prepare for my Moc Bai visa run?
What are the basic documents that you need to bring for a smooth Moc Bai border run? If so, see the list below:
Your original passport (valid for at least 06 months following your entry date);
Your valid entry paper if you are not eligible for Vietnam visa exemption. It can be:
A pen for filling out several forms;
$30 for the Cambodian visa (if available for your nationality) (or obtain it beforehand at Cambodia Embassy at 71A, Tran Hung Dao Street, Hanoi, or Cambodian Consulate General at No. 41, Phung Khac Khoan, Ho Chi Minh City, Vietnam);
US $25 for the stamping fee for a Vietnamese single entry visa or US$50 as the stamping fee for a multiple entry visa valid for up to 3 months if you are entering with an approval letter for a business visa.
Two passport photos if you are getting a visa on arrival (see the photo requirements here);
Print-out of your certificate of full vaccination;
A negative ATK test certificate taken within 24 hours of arrival in Vietnam in the visa run (same day test is highly recommended). In case you don't have one, you can do it at the Moc Bai Border Gate, but it will take your time waiting there.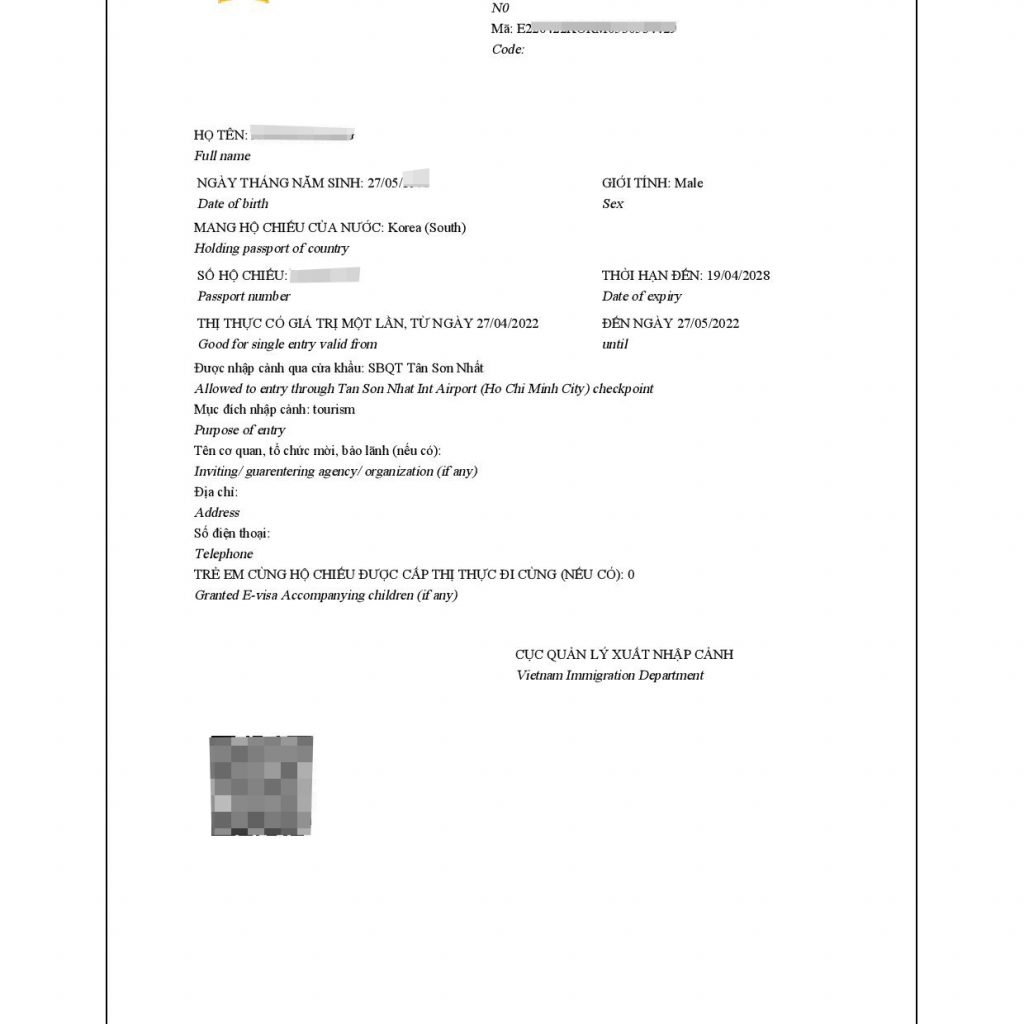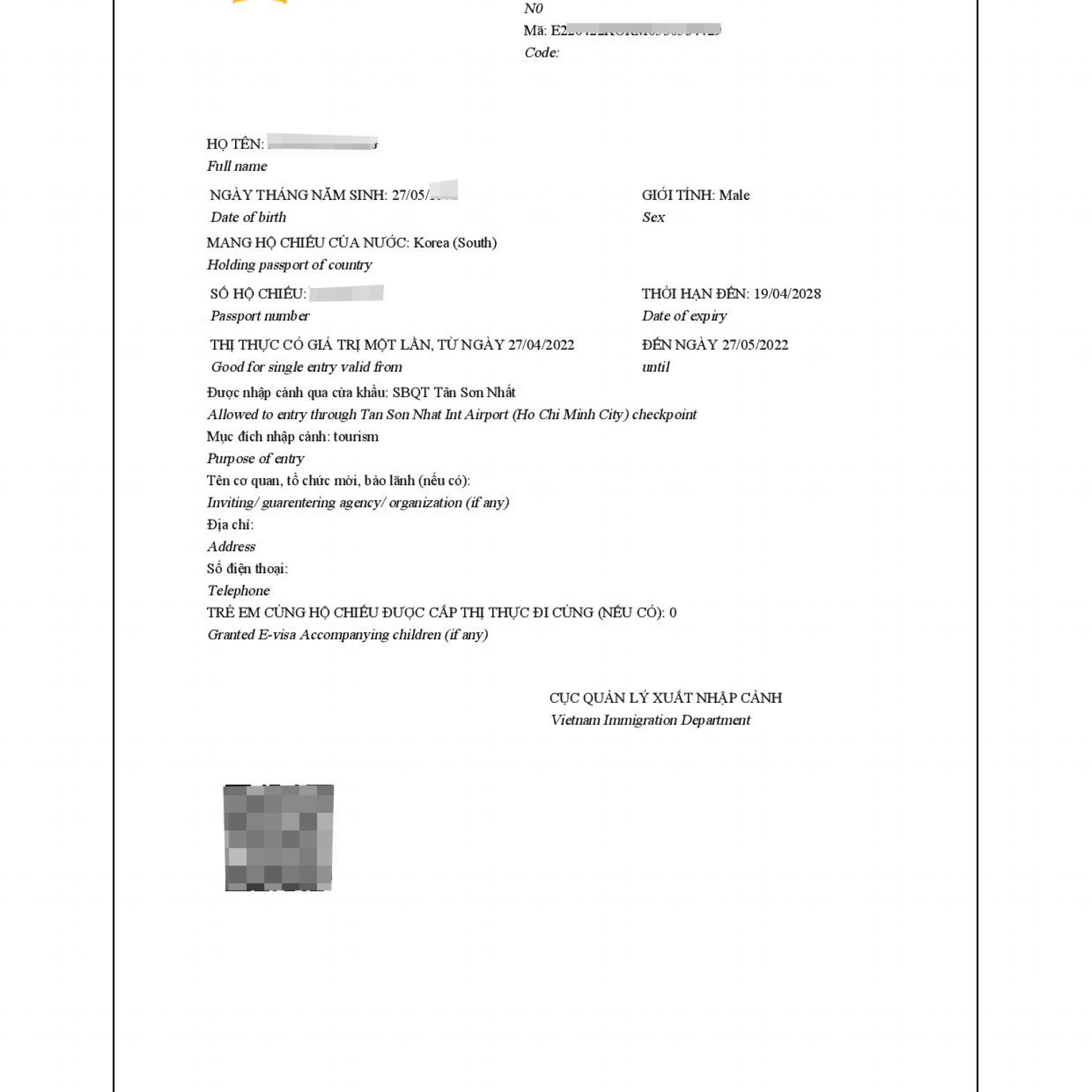 How to properly do Vietnam visa run at Moc Bai border checkpoint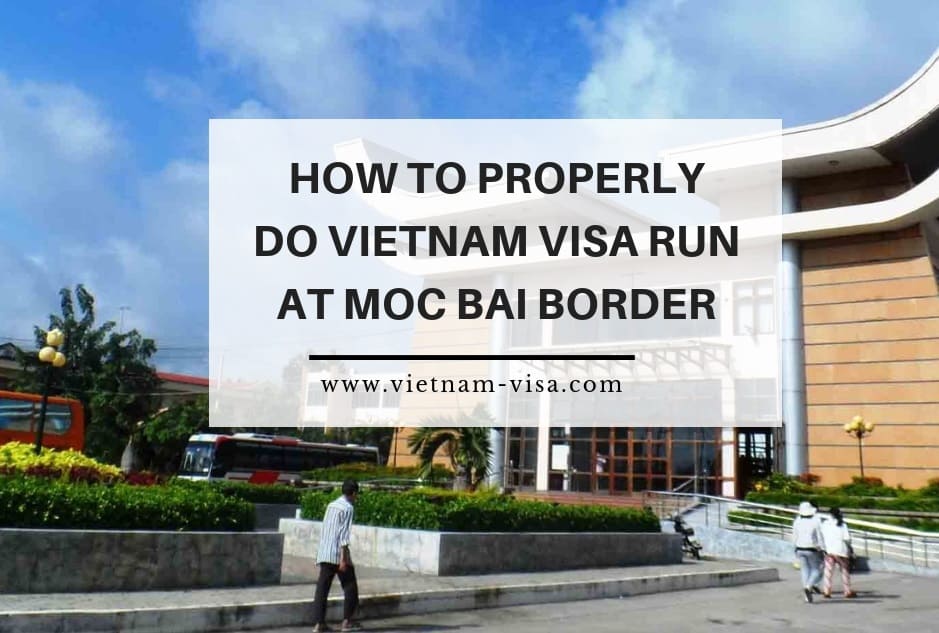 The whole process of getting a visa run done at the Moc Bai border covers the following steps:
Getting to Moc Bai border
Exiting Vietnam
Entering & Exiting Cambodia
Reenter Vietnam with a new stay duration.
Step 1: Getting to the Moc Bai border from Saigon (Ho Chi Minh City)
How to get to the Moc Bai border from Saigon? Yes, there are various ways to reach the Moc Bai border from Saigon, including motorbike, city bus, private bus, taxi, and private car.
By motorbike/private car:
For most people living in Ho Chi Minh city, the fastest way to reach the Moc Bai border gate by motorbike and private car is to go towards Cu Chi and pick up QL22, keep following the way until reaching the border. The distance is around 70km, depending on where you live in the city.
Tips: Many expats wouldn't recommend the motorbike option, but private cars, as it would be a long, hot ride with the issue of having to park your bike somewhere whilst you enter Cambodia. But if you want to enjoy the landscape, a motorbike ride is not a bad option.
By city bus:
This is perhaps the cheapest option to get to Moc Bai from Ho Chi Minh city.
Take a blue public bus No.703 at Bus station in Park 23/9 (at the corner of Pham Ngu Lao and Cong Quynh street, opposite to Thai Binh Market). If you want to depart and come back to Saigon on the same day, you should start your border-run early in the day, preferably before 9am, as the last bus leaves Moc Bai around 4 or 5pm. The journey takes about 3 hours.
Frequency: Departs every 30 minutes. And just go to Moc Bai Border
Price: 40.000 VND/person (around 2 USD/person/1 way).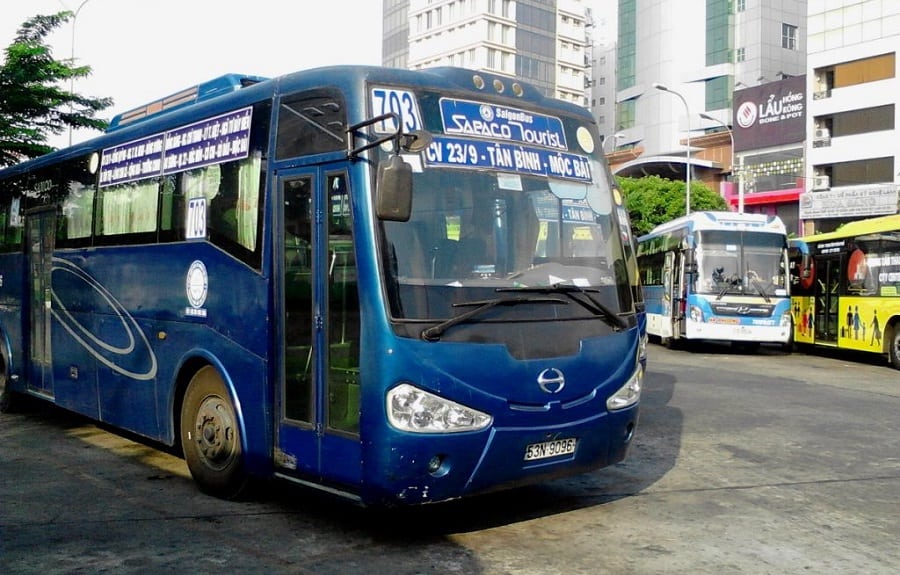 By private bus:
If you don't want to take a city bus that stops at various spots, you can book a seat on a private bus in any office on Pham Ngu Lao Street. The price is around US $10 – 12.
Step 2: Exit Vietnam
First of all, you need to park your bike or get off the bus, and then walk for around 5-10 minutes to reach the border gate.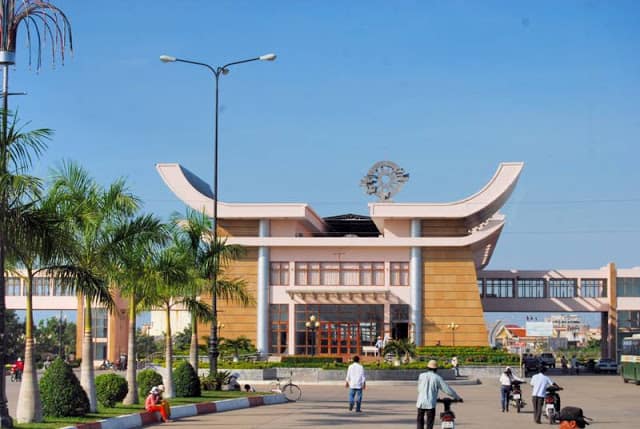 You'll get to the big Vietnamese building. Walk all the way to the right and keep walking until you see a big wooden booth with a Vietnamese official sitting in it. You'll see a bunch of people waiting in line. You can wait in that line, it will probably take like 30 minutes.
Get the exit stamp onto your passport and then exit the border to Cambodia.
Step 3: Enter & Exit Cambodia
Once you get stamped out of Vietnam, you make your way to the Cambodian border checkpoint, around 200m walk. Once here, you go to a small booth where you will show your visa (if you obtained it at the Cambodian embassy/consulate in Vietnam) or pay US$30 for a Cambodian visa on arrival, and fill out the form. There you will find some locals who invite you to get help, of course, with the hope of some money. If you don't want, decline politely. If you do need their help, prepare to pay a service fee.
After getting stamped, go into the adjacent building to "enter Cambodia". When you enter the building, you will see, on your left, some tables and chairs. Stay there and fill out the arrival card before queuing up to officially enter Cambodia.
Then go across to the exit building, and get your stamp out of Cambodia.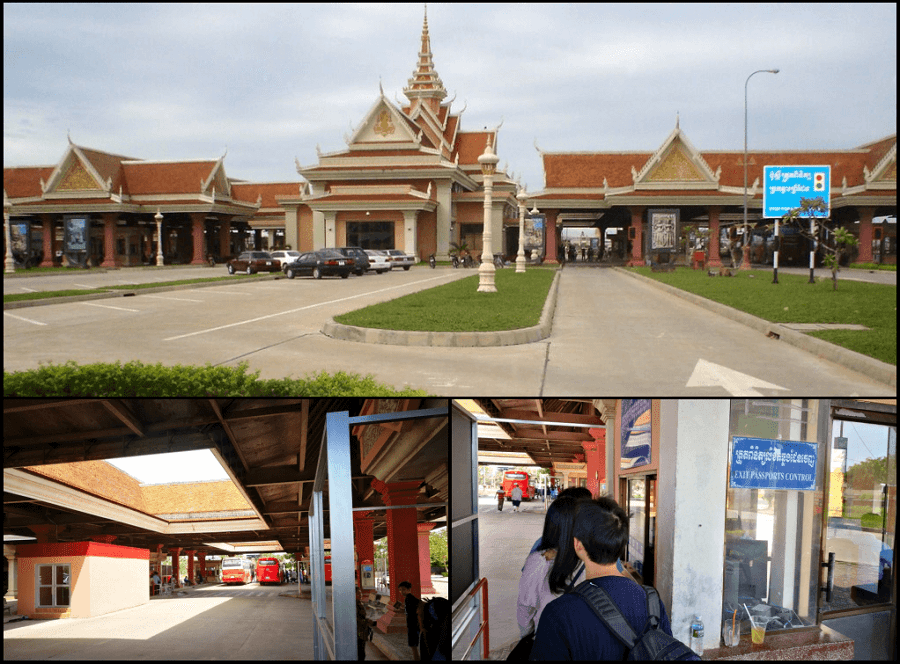 Tips: We highly recommend you prepare USD for visa fees beforehand, as if you run on Vietnam Dong, you will find that every payment comes with an unreasonable exchange fee. To do so, just visit the gold shops around Ben Thanh Market first and get some USD in small, unmarked banknotes.
Step 4: Re-enter Vietnam
Here come the steps that you need to complete the visa border run at the Vietnam border:
You walk back and into the building again from the other side. In case you do not have the Covid test certificate yet, you can do it at the Moc Bai border at $10 (it's on the right-hand side, after the exit stamp gate from Cambodia, and just before the entry stamp gate to Vietnam).
At the Vietnam Immigration building, you then show your passport, Vietnam entry paper (if required), ATK test certificate, and complete the Vietnam entry procedure.
Congratulations. You are successfully back in Vietnam with a new stay duration. The whole process may take you around 3 – 5 hours, depending on whether you have the ATK test certificate in advance or not. Now, get on your car, bike, or bus to go back to Saigon.
Vietnam visa run procedure at Moc Bai border checkpoint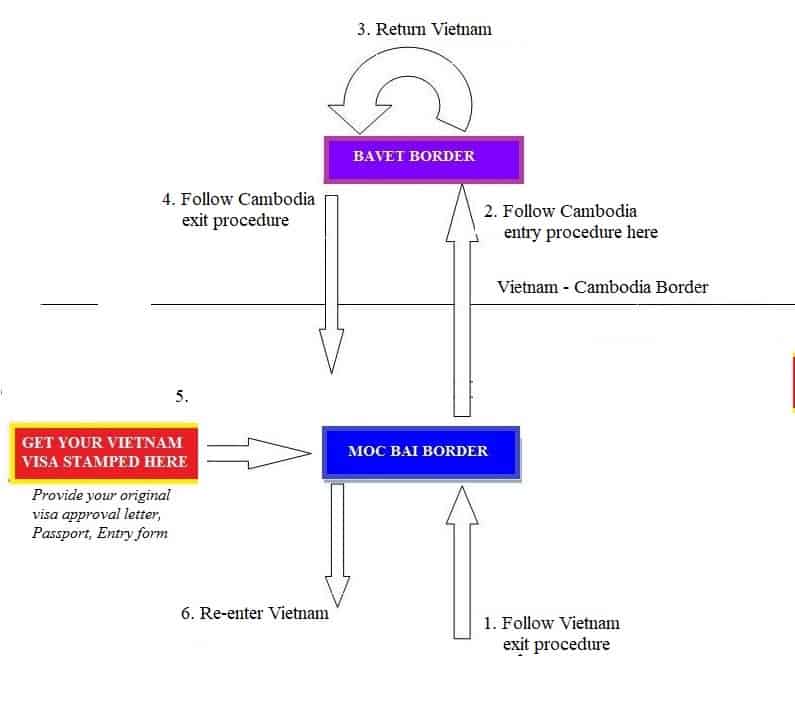 Top tips:
Take some USD with you, occasionally as an extra tip for the officials at the border, around US $10 (no more), so make sure you have this on you just in case. Plus there are lots of drinks and food stalls where the bus waits so you can grab some food here.
Prepare the exact amount for visa fees so that you don't get caught out needing change.
Take some extra clothes because the air-con on the bus can be pretty chilly when you're on it for 3 hours.
Make sure you won't change your port of doing the visa run, as once you change, you need to get a new visa letter.
Moc Bai Visa Run Service
It's great that we can help you in case you want to do your visa run at ease and in comfort. We have a full package for a Moc Bai visa run, covering:
Transportation (private car with an English-speaking driver)
E-visa if required,
Covid test support,
Vietnam & Cambodia immigration support.
By using this package, you will be:
Picked up by our driver at your address and taken directly to the Moc Bai Checkpoint on a modern private car,
Welcomed by our agent at the Moc Bai Checkpoint,
Escorted to get exit stamp at Moc Bai checkpoint (Vietnam), Cambodia visa, and entry stamp at Ba Vet checkpoint (Cambodia).
Escorted back to complete the Cambodia exit and Vietnam re-entry procedure.
With our professional team and arrangement, you are guaranteed to have the most comfortable and fastest experience for a Vietnam visa run even.
👉Contact us at Hotline/Zalo/WhatsApp/Viber +84 32 896 0880, email info@vietnamvisacenter.vn or leave your request below and our consultant will get back to you shortly with service details and quote.