Note: All the Vietnam visa exemption cases have been resumed like before Covid.
What is Vietnam Visa Exemption?
Vietnam visa exemption (also known as Vietnam visa waiver, or Vietnam visa free) means the case that a foreign national is allowed to enter Vietnam and stay in the country for a certain period of time without having to follow any Vietnam visa procedure as the Vietnam government has signed the bilateral/unilateral visa exemption agreement for his/her country.
This kind of visa exemption is completely different from a Vietnam visa exemption certificate (also known as Vietnam 5 years visa).
Those who enter Vietnam under visa exemption will get the exemption stamp as follows on their passport: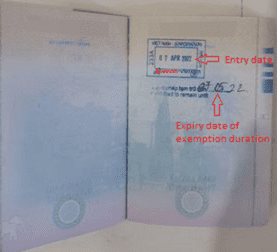 Vietnam Visa Exemption countries
As of January 2022, regular passport holders of 25 countries DO NOT need a visa for Vietnam. Here is the full list of Vietnam visa free countries: