Before applying for Vietnam work permit or getting married in Vietnam or any other official purposes, the documents originating from the United Kingdom will need to go through the consular legalization process.
In this post, we will guide you through regulations on consular legalization of UK documents for use in Vietnam. It responds to the following questions:
What are UK documents for legalization?
Can I get my UK documents legalized in Vietnam?
How to legalize my UK documents for use in Vietnam?
1. What are UK Documents for Legalization?
There are a lot types of documents issued in the United Kingdom that are required to be legalized to be used in Vietnam. But, in general, they fall into the following two types:
Personal documents: It can be Degree or Master Certificate, PHDs or Diploma Qualifications or other Academic Reports, National Police Chiefs' Council (NPCC) or Disclosure Scotland, etc.
Business documents: It can be Certificate of Incorporation, Power of Attorney, Tax Returns, Partnership Agreement, VAT Certificate, Company Registers, or Certificate of Name Change, etc.
2. Can I Get My UK Documents Legalized in Vietnam?
No. The UK embassy in Vietnam, from November 13, 2017, no longer provided the consular legalization service. As such, all documents originating from the UK to be used in Vietnam will need to go through the legalization process in the UK.
3. How to Legalize UK Documents for Use in Vietnam
The consular legalization of Documents issued in the United Kingdom for official use in Vietnam involves 3 steps as follows:
Step 1 – Get your document notarized in UK
In this step, you need to have your UK document certified by a UK Solicitor or Notary Public.
However, this step is waived for the following documents:
UK Birth Certificate
UK Marriage Certificate
UK Police Clearance Certificate (ACRO only)
UK Death Certificate
UK Medical Report signed by a UK Doctor
Step 2 – Get your document legalized by British Authorities
You now will need to submit your notarized document to:
the Foreign and Commonwealth Office (for United Kingdom),
the Department of Foreign Affairs (for Ireland), or
the Legalization Offices in the UK Crown Dependencies (Jersey, Guernsey, Isle of Man).
(hereinafter referred to as the Legalization Office).
The Legalization Office will check your document, including whether the signature, stamp or seal is genuine, and then legalize it by attaching a stamped official certificate (an 'apostille') to it.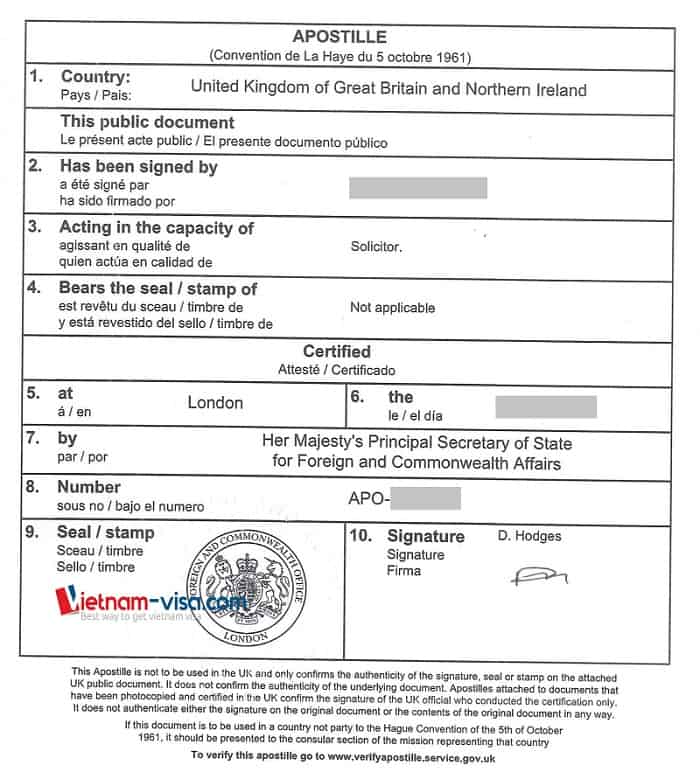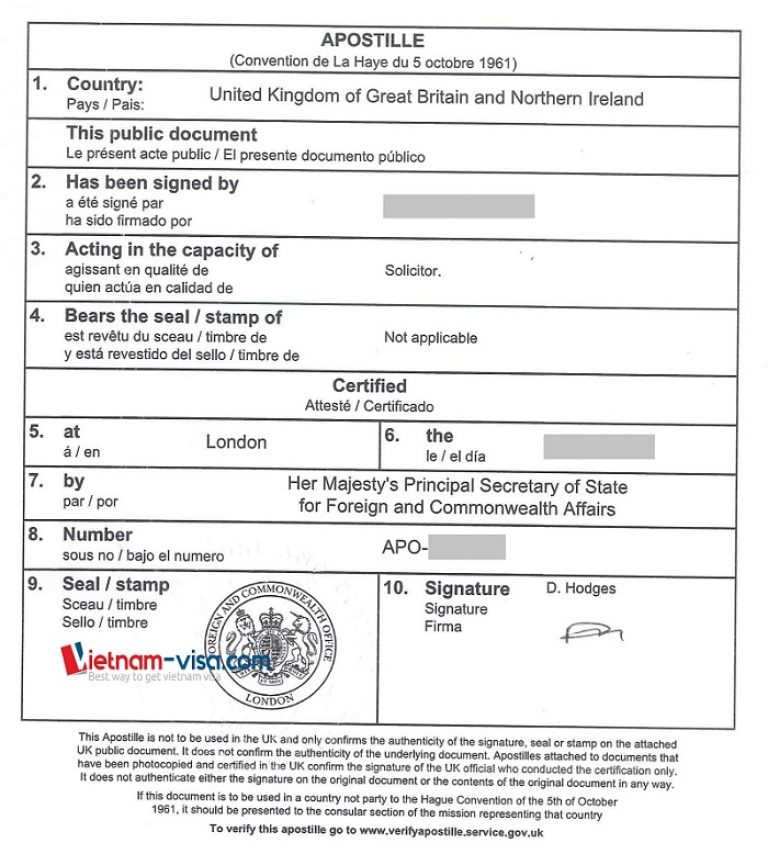 The processing time by this office is normally 2 working days, or up to 10 days during peak periods around Easter and summer.
You can then receive your documents by courier to your address in Vietnam or UK, including the Vietnam Embassy in UK.
Note: The documents from UK Overseas Territories (Anguilla, Bermuda, British Virgin Island, Cayman Islands, Gibraltar, Turks and Caicos Islands) must be legalized by the Legalization Office in the Overseas Territory concerned before being legalized by the Foreign and Commonwealth Office.
Step 3: Get your document legalized by the Vietnam embassy
You, in this step, can send the following documents to the Consular Section of the Embassy of Vietnam in UK in person or by courier:
Legalization Application Form: Click to download: WORD format, PDF format
Documents (original or copy) with ORIGINAL apostille stamp
Copy of documents with apostille stamp
A self-addressed envelope if you want your documents to be returned by post. The address can be in the UK or in Vietnam upon your request.
After receiving your documents, the Vietnam embassy in UK will verify the signature and seal (excluding contents of documents) of the legalization office.
Once being verified, the Vietnam Embassy in the UK will officially apply authenticated seal and signature to your document(s), which will be ready for use in Vietnam.
The processing time is around 5 working days.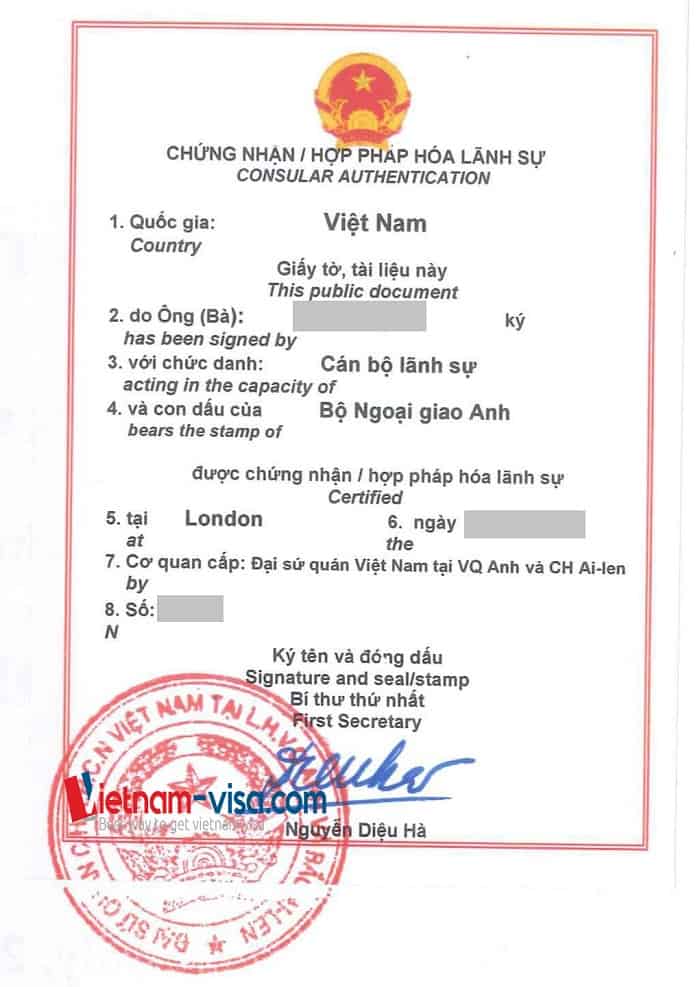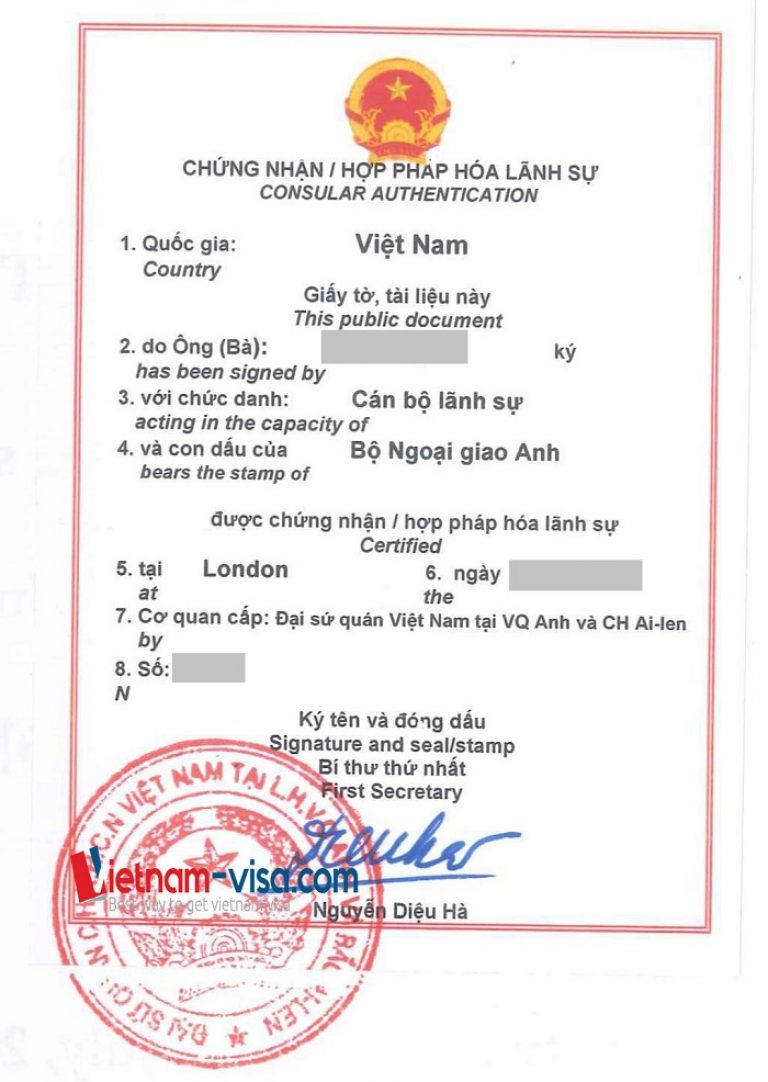 So, we have taken you through 3 steps of consular legalization of UK documents for use in Vietnam. As this process is required to be completely done in the UK, we highly recommend you to legalize all necessary documents before departure for Vietnam.
In case you are in Vietnam and find it hard to complete the procedure, you have us as your personal assistant.
4. UK Document Legalization Service in Vietnam
The process of legalizing UK documents for use in Vietnam is lengthy and time consuming one, and can be daunting, especially for those in Vietnam. As such, it is the best to have our legalization service to undertake it on your behalf and leave you a completely stress-free experience.
With more than 10 years' experience in this regard, we have assisted 1,000+ expats in Vietnam to get their UK documents successfully legalized to be used in Vietnam.
Our professional legalization service completes this process in 3 extremely easy steps:
Step 1: You need to provide us your name, email, phone number and document type, and then we will inform you of your legalization fee.
Step 2: Vietnam-visa.com will get your UK documents to ensure that all steps to officially attest the documents at the Vietnam embassy in London are completed in the shortest possible time.
Step 3: After official certification, the UK documents will be delivered back to you at your doorstep.
Our Full-package legalization service fee for UK documents to be used in Vietnam
Document type
Fee
Services included
Processing time
Marriage Certificate, Birth Certificate
US $390/document
✅Notarization (if required)
✅Legalization at the Legalization Office in the UK
✅Legalization by the Vietnam embassy/Consulate General in the UK
✅Fees for delivering documents from our office in Vietnam to the UK and vice versa
5 weeks
Diploma, Certificate
US $390/document
5 weeks
Work experience certificate
US $390/document
5 weeks
Business Registration Certificate
US $890/document
5 weeks
English Teaching Certificates
US $390/document
5 weeks
Need assistance in legalizing your U.S documents for Vietnam, connect with us via:
Hotline:+84 32 896 0880 (WhatsApp, Viber, Zalo available)
Email: info@vietnamvisacenter.vn
Offices:

In Hanoi: 173/75 Hoang Hoa Tham, Ba Dinh, Hanoi